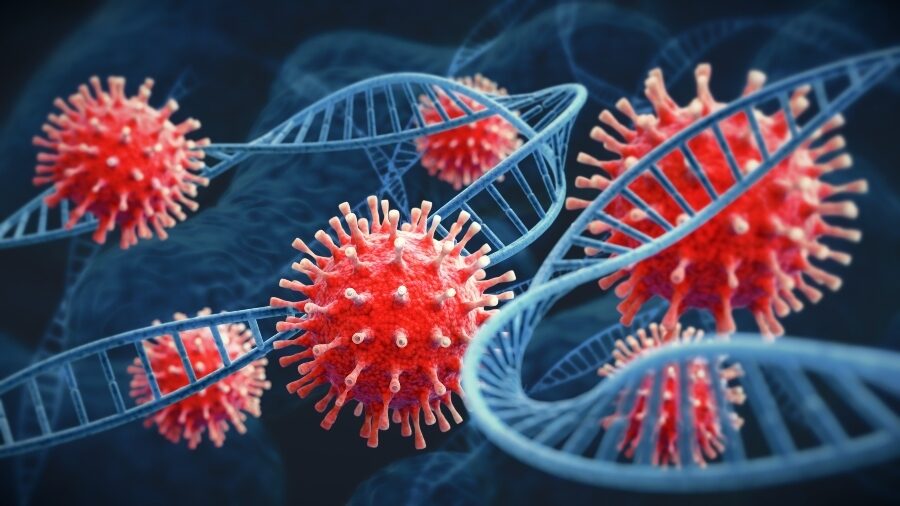 Scientists find genetic link to loss of sense of smell
Coronavirus (COVID-19) ‌tally‌ ‌as‌ ‌‌compiled‌‌ ‌by‌ ‌Johns‌ ‌Hopkins‌ ‌University.‌ ‌(Previous‌ ‌numbers‌ ‌in‌ ‌brackets.)‌
Total‌ ‌United States‌ ‌confirmed cases‌ ‌:‌ 66,457,054 (65,700,210)
Total‌ ‌US‌ ‌deaths:‌ 851,732 (850,601)
Total‌ ‌worldwide‌ ‌cases:‌ 331,313,694 (328,350,251)
Total‌ ‌worldwide‌ ‌deaths:‌ 5,548,119 (5,540,981)‌
Loss of sense of smell could be genetic, say scientists
Scientists are getting closer to why some people infected with COVID-19 lose their ability to smell. They believe they have found a genetic reason why some patients are affected this way and others are not.
A study published this week in the journal Nature Genetics highlighted a genetic risk factor associated with loss of sense of smell after coronavirus infection. Scientists say the discovery brings researchers closer to understanding the pattern and could eventually lead to effective treatments.
Researchers estimate that up to 1.6 million Americans are unable to smell six months after contracting the virus. The precise cause of sensory loss, however, remains a mystery.
Study finds COVID-19 brain damage similar to Alzheimer's disease
Older patients with COVID-19 may face additional risk from the virus. A new study reveals that elderly patients may suffer more brain damage than that caused by Alzheimer's disease.
NYU Grossman School of Medicine researchers found higher levels of seven markers of brain damage in COVID-19 patients with neurological symptoms than those without. The excess markers are also found in the blood of patients who died in hospital rather than those discharged and sent home.
The study found 251 people who had no records or symptoms of cognitive decline or dementia before being hospitalized with COVID-19. Those with higher levels in all seven markets were more likely to die from the virus.
CDC director makes some course corrections to COVID-19
The Biden administration's policies for handling the coronavirus pandemic have come under question lately, culminating in the Supreme Court's rejection of the vaccination mandate for private companies. Dr. Rochelle Walensky, director of the Centers for Disease Control and Prevention, presses the reset button.
In an interview with The Wall Street Journal, Walensky said the pandemic has made twists and turns that have unsettled medical experts. She says she should have said from the start that there is a lot about the disease that she and other experts simply don't know.
"I think what I haven't conveyed is the uncertainty in a lot of these situations," Walensky said.
around the nation
Arizona: Two large southern Arizona hospital systems will allow employees to work, even if they test positive for COVID-19. Banner Health and Tucson Medical Center said they were following CDC advice. "Team members returning under these guidelines will be required to wear N95/KN95 masks for 10 days after testing positive," Banner Health said in a statement.

Maryland: After battling a spike in cases of the Omicron variant for weeks, state officials say COVID-19 numbers have started to drop. While the seven-day case rate is still well above the 5% target range, it is significantly below the January 10 average of 27.98%.

Massachusetts: Hospitals across the state had already postponed most elective surgeries because of COVID-19. Now they include many non-elective operations. "We're postponing surgeries for what we consider to be benign tumors or masses. But some of them of course turn out to be cancer," Dr. Ron Walls, chief operating officer of the general, told ABC News. mass Brigham.

California: The state's new COVID-19 workplace rules have gone into effect. In the event of an outbreak, the rules require employers to make FDA-approved COVID-19 tests available free of charge to all exposed employees during work hours.

Colorado: Emergency (ER) physicians are calling on Governor Jared Polis to help them manage the influence of COVID-19 patients arriving daily at the ER. Leaders of the Colorado chapter of the American College of Emergency Physicians say ERs are trying to treat more patients but lack the staff and resources to do so.